What-to-Wear: No Dress NYE
New Year's Eve is just a few days away, and that means that this week I'm asking "What to wear?" to a new years party. After weeks of merry making and doing the rounds at all of my friends' holiday parties, I'm all dress-ed out. Not only do I not have any more dresses to wear, but I'm tired of wearing dresses at all. I mean, it's hard enough to dance in a dress as it is, but it's even harder after a few glasses of champagne when the tabletop starts looking like a reasonable dancefloor.
In light of being out of dresses and in favor of dancing all night, this new years I'm opting for a trouser-crop top combo. Now, before you start shaking your head at the thought of wearing pants to an NYE party, read below to see why this year will be a no-dress new years.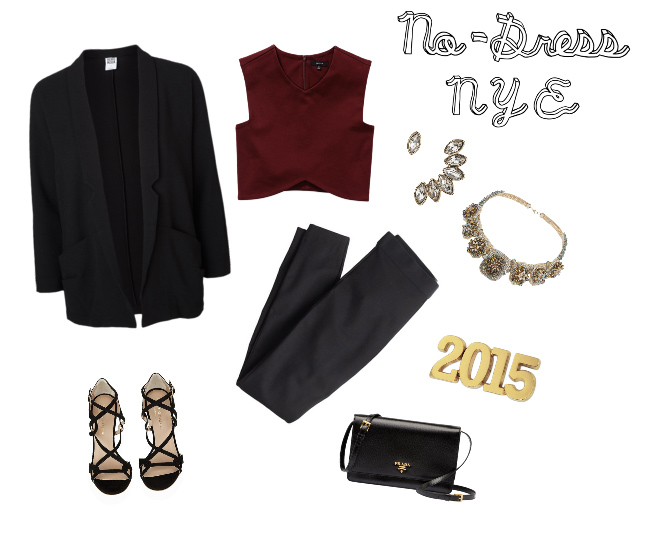 1. Jewel Toned Crop Top
Crop tops may be considered too casual in some fashion circles but, when done right, they are just the thing for a night out on the town. Opting for a jewel toned crop top, like
this ruby red version
from
Aritzia
, is an easy way to make baring your midriff feel more night-time appropriate.
2. Tailored Trousers
High-waisted, tailored trousers keep this look feeling refined while balancing out the proportions of the crop top. The high-waist will elongate your legs while covering enough of your midriff for just the right mix of sex appeal and class. Try the
High-Waisted Poly Crepe Trouser
by Alexander Wang.
3. Longline Blazer
A slightly oversized, longline blazer is perfect for throwing over any New Years outfit, especially this one. The oversized fit provides a nice contrast to the otherwise structured garments in this look, and reads as relaxed and ready-for-the-party rather than stuffy and just-got-out-of-the-office. Just throw on and push up the sleeves for an effortless, yet put together vibe. This blazer is by
Vero Moda
and is available
here
.
4. Strappy Heels
Strappy heels give this relatively conservative look a necessary dose of sex appeal. The suede and gold detailing make these heels feel polished while, the straps keep them playful and have the added bonus of keeping your feet secure for dancing. Avoid a Cinderella moment and stay sexy and strapped while you're ringing in the New Year. These shoes are by Kurt Geiger and can be found
here
.
5. Don't Forget!
Festive and flashy cocktail jewelry like this
collar necklace
and
ear cuff
by
TOPSHOP
to glam up this look, and a small leather bag with matching gold accents to hold all of your all-night essentials. This bag is the
Patent Saffiano
by
Prada
.
As the holiday season comes to a close, end this year in style by trading in those sequined dresses for an evening appropriate crop top and trouser ensemble.
Happy table dancing!
Credits:
Polyvore