GETTING BOLD AND BORDERLESS WITH ALEX S YU
Fashion is feeling reborn as talented up and coming designer
Alex S Yu
continues to make headlines and fill the runways some unique and innovative new fashions that bring together some of the best elements of both Western and Eastern cultures. A breath of fresh air to the industry, Alex not only took
Vancouver
Fashion Week by storm last year, but also gave us the privilege of going behind the scenes with him in his studio with our host
Stefanie Rycraft Jones
and her spunky co-host
Courtney Blackman
on our long-running hit travelogue series
Stefanie's Style Diaries
. As we focus on the most fashionable locales and people-to-know in
Vancouver
, Alex definitely shows us some of the best the city has to offer in fashion.
Read our full exclusive interview with Alex below!
What does a typical day look like for you?
I usually wake up around 11am and will make some breakfast or lunch for myself, which usually consists of a quick salad or some sort of pasta. I spend the afternoon replying to emails, creating social media graphic content and updating my social media platforms. Sometimes I will head out to grab a coffee or run some errands and then I'll start to work on whichever project I have going on. I am always in front of my sewing machine or at the cutting table. I have dinner around 7pm and will take a 1-2 hour break to read or watch Netflix. I usually take a bath to relax and then resume working from 9pm until 3-4am.
You briefly touched on your background with Stefanie, but we're dying to know more! Please tell us more about growing up and your journey to Vancouver and London.
I was born in Taipei, Taiwan and immigrated to
Vancouver
, Canada with my family when I was 7. I grew up in
Vancouver
and finished my degree in Fashion Design at the Blanche Macdonald Centre in
Vancouver
. After that, I decided that I wanted to go abroad to study for my graduate degree. I've always loved British culture, so London College of Fashion was my first choice. I moved to London to study at LCF for 2 years and stayed in London for another 6 months to work. I returned to
Vancouver
in September 2014 after winning a competition hosted by Canadian magazine NICHE to launch my label at
Vancouver
Fashion Week.
Recently, where do you go to find your inspiration for upcoming collections?
I don't really limit myself when I seek inspiration, but I think I tend to gravitate towards contemporary art and subculture. However, most of the time, my inspiration starts with a small idea and I expand that idea and do research within relevant fields.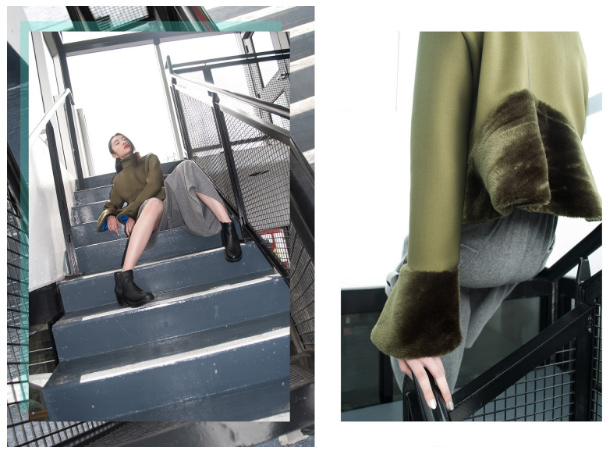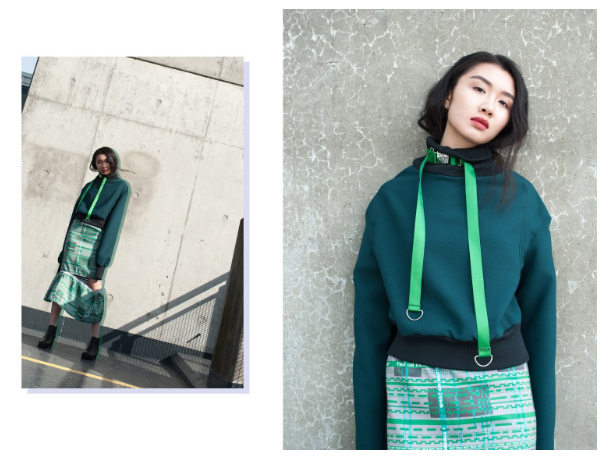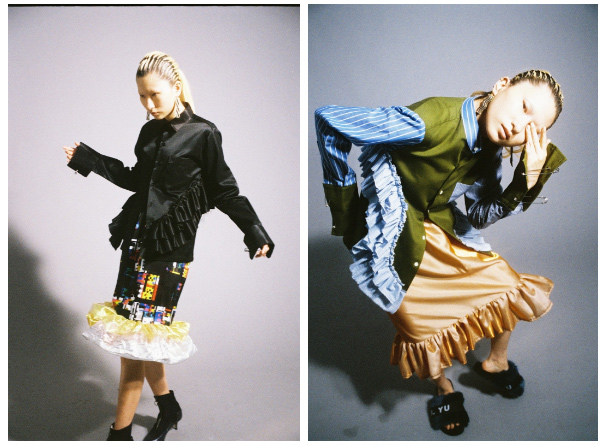 You mentioned that you like to have music on when you work. Is there a particular artist or genre that gets your creative juices flowing?
I listen to any and everything. I find it's easier for me to get into the mood to work with music on in the background. My favourite playlists to listen to are probably from bands such as The Nationals, Girls and Best Coast. Sometimes I put on Solange or FKA Twigs if I am feeling a bit more calm and when I am doing more boring and repetitive work, I like to listen to very upbeat and positive music such as Daoko or Kerokero Bonito. Every now and then, I like to listen to assorted J-Pop artists such as Utada Hikaru, Mr.Children, Radwimps, Uverworld or Ketsumeshi.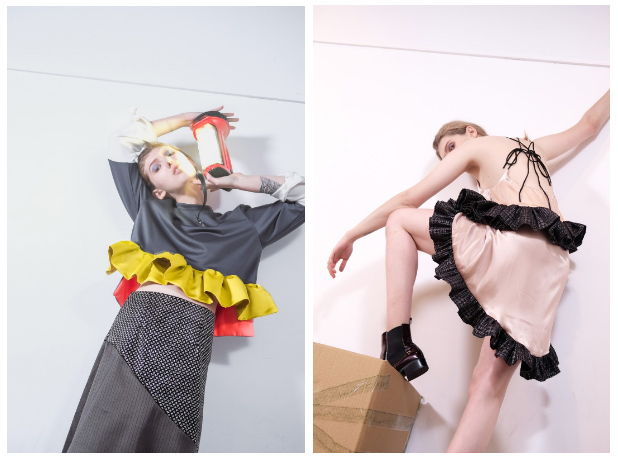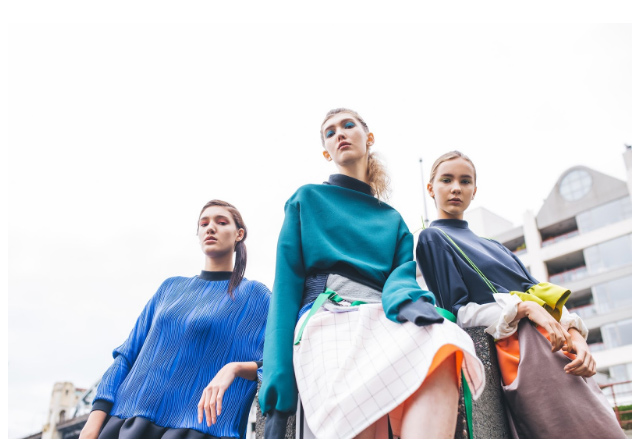 Who is the Alex S Yu girl and where do you see her going in your garments?
The ALEX S. YU woman loves to have fun, and isn't afraid of trying new things. She loves colour, prints, quirky shapes, textures, and most importantly, values comfort. She is eccentric, lively, nonchalant and views life through a pair of rose tinted glasses. She would go out shopping, visit art galleries, eat dinner, attend parties - basically anywhere in my garments.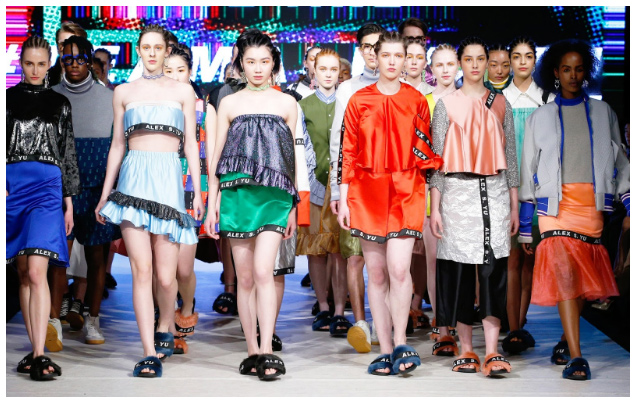 What was it like headlining Vancouver Fashion Week?
It was truly amazing.
Vancouver
Fashion Week has been nothing but supportive since the beginning of my fashion career, since I literally started my label and showed my first full collection at VFW. I would not be where I am if it wasn't for VFW. I was also awarded the Nancy Mak Award in September 2016, which consisted of a prize of $5000 CAD in which I could use to expand my label. I used that prize to show my AW2017 collection at London Fashion Week with Fashion Scout.
How would you describe your own personal style?
My personal style is sort of low-key. The busier I am, the more I tend to gravitate towards some sort of uniform. My look usually consists of two black tees (one fitted and one a bit thicker and looser), a shirt or light jacket, and a pair of comfortable black trousers (my favourite is the Issey Miyake Homme Plisse trousers which I got in 4 different colours). I will usually wear a pair of trainers or a worn out pair of Supergas. However, every now and then, I will incorporate bright colours into my look.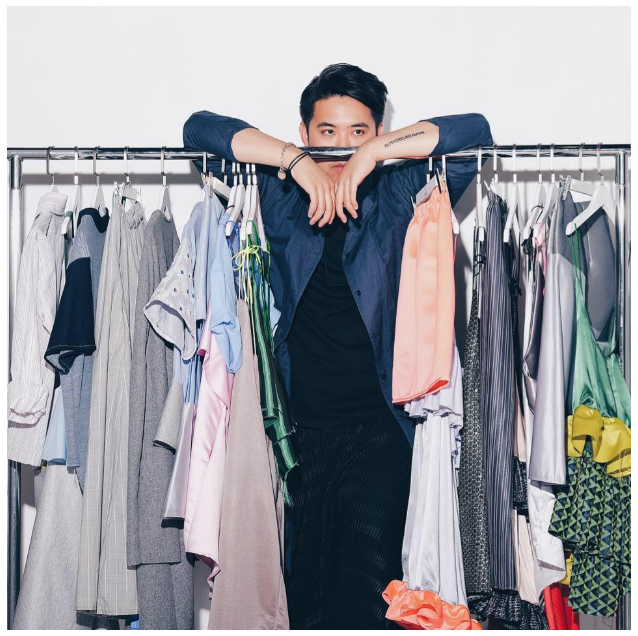 At any point, have you ever wanted to be anything other than a fashion designer?
I did not grow up aspiring to be a fashion designer. I actually wanted to be a chef while growing up as I love cooking. Now, cooking is a relaxing downtime hobby for me.


How do you like to spend your free time when you have the chance to relax?
It depends on where I am as I am all over the place now. If I am in
Vancouver
, I like to meet up with friends over coffee and catch up. If I am in Taipei, I usually pick an unfamiliar station or area and try to explore and try out different street foods. If I am in London, I usually visit one of the many galleries or I love to stroll along the canal and relax at Victoria Park.
Describe your design style in 3 words.
Colourful, fun and bold.
****************

For more information about Alex and his fashions, please visit his website at http://www.alexsyu.com.

Catch Alex on Stefanie's Style Diaries Vancouver Part 1 on Wednesday, May 17 at 20:30 (UTC+8).

Get a sneak peek of Alex, Stefanie and Courtney here!