Adam Child: Fashion One Correspondent Search Benelux Host
Who's this handsomely fashionable host leading the show? Let us meet Adam Child, UK's top producer and presenter as he talks about Fashion One Correspondent Search: Benelux and get to know more about the man with the face in front of the camera.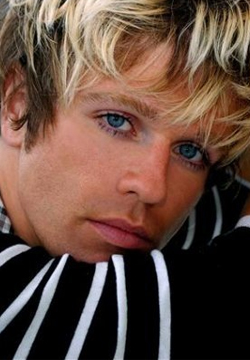 1. What makes a good fashion correspondent? What do you look for in finding the next Fashion One Correspondent?
Must certainly have a great knowledge of fashion, must be able to think on their feet and deliver under pressure. I would say they must have an exciting approach and be up-to-date with fashion trends.
2. What will viewers expect in this Benelux leg of the Fashion One Correspondent Search? What makes this leg exciting? What makes Benelux different/unique from the other Fashion and Entertainment capitals of the world?
The Benelux region is an exciting, vibrant area, what makes it different is they love & breathe fashion. Every night there is a fashion show or event where you see a variety of different fashionistas.
3. Which of the tasks the contestants did is your favorite?
My favourite task was 100% the obstacle course. Just watching the contestants' faces whilst they were trying to attempt this course was a picture. One of the girls ended up flat on her bum and the others well everyone pretty much messed it up. But to be fair it wasn't easy.
4. If you were to put in another task in the competition, what will it be?
I would have asked them to put on their own fashion show in the finals, including the promotion and booking of the models. Choosing the clothes and everything to see how they delivered. This would give them a great experience in what it takes.
5. Any advice for the fashion correspondent or for those who want to be one?
My advice would be don't do obstacle courses when trying to talk about fashion. In all honesty a great presenter would research the subject and know it inside out, always keep your interviewee at easy & most of all be yourself.
6. What are you looking forward for the fashion and entertainment industry in 2013?
This day & age you don't follow trends, you make trends. So cool people keep trend setting for 2013 entertainment wise I'm looking forward to my show Fashion Island being commissioned. I'm also looking forward to working for Tresor Paris & bringing new jewelry for the world of fashion in 2013.
About Adam:
Adam Child started his career in Children's Television working for BBC UK. He was fast tracked for a UK reality TV show called SHIPWRECKED on Channel 4 after taking 69% of the UK votes, Adam won the show, fast becoming one of the UK's most loved TV personalities. Adam had a splendid career presenting for T4 MTV UK and various other UK networks, Adam found his way through music and is very much a cheeky, chappy and a very exciting personality you certainly know when he's in the room! Adams latest projects include the MOBO's, Fashion One Correspondent Search Benelux and pretty much every fashion week across the UK. Adam came out of TV after having a child, Sienna, who is 4 years of age, and is engaged with his partner, Coleen. He is now one of the UK's leading producer/directors having produced "Dating in the Dark" for Living TV, producing on MTV, and produced for "Tresor Paris." Adam has also written two shows commissioned by Sky Television "Stag v Hen" and "Fashion Island." Adam says - "Presenting the Fashion One Correspondent Search Benelux was great to find that one person to represent the Benelux is vital for the world of fashion. I was happy to be part of it & look forward to working on another Fashion One show in future".