Spring-Summer 2017 Sous le soleil exactement
The spirit
At home in Paris
This past summer, Berluti hosted a poolside cocktail party to show the Spring-Summer 2017 collection. The Parisian shoemaker took this opportunity to show what the house's lifestyle is all about: skateboarding in a polo shirt on the paths of the formal garden, sporting swimwear armed with a Venezia leather covered Frisbee, or a workout session in Fast track sneakers. The mood is all about lightness, outdoor, easy lifestyle. Summer will be here again soon and Berluti is providing everything to take the travelling man right through the season.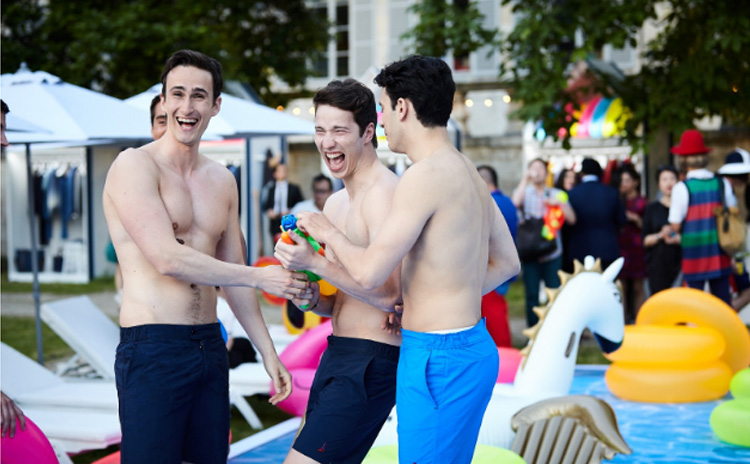 The wardrobe
Sunset wear
The sky lends its hues to the Spring-Summer 2017 ready-to-wear collection designed by the Berluti studio. Pure white, sunshine yellow, turquoise, navy blue, rust red and deep brown are all nods to day-to-evening wear designed to meet all the whims and requirements of a nomadic man. The B-Way leather blouson, zipped fleece-lined hoodie, two-tone jersey-knit polo shirt, tailored denim shirt and Serge trousers offer a very casual or more formal attire, which is always immaculate, to suit every circumstance.
Game on
This summer, Berluti presents its finest outwear equipment with the new lifestyle collection in the shape of fun, quirky objects such as skipping rope, dumbbells, beach rackets or a petanque set revisited in Venezia leather. Berluti's emblematic leather is also hand stitched around a football or air-brushed with a sunset on the Time-Off backpack.
Hybrid shoes
Hybrid shoes accessorise this bright all-road look. These designs have been created to rise to every occasion with flair. Fast Track sneakers, drawing its design credentials from running shoes and the shoemaking tradition, is available in pure white Vitello Unico leather. Graduated sunset blue injects a fresh touch to the shoemaker's emblematic Playtime sneaker. The Matteo design offers a stylish take on the skateboard look with its one-cut Venezia leather upper secured in the classic manner to a vulcanised rubber sole.
Then away
In Miami perhaps, then Formentera, Porto Ercole, and Los Angeles. The aim is to travel where leasure will take him. The House is following the contemporary hedonist from wide expanses of sand to blue waves. This gent is attentive to his personal style and freedom of movement. His hybrid, relaxed outerwear meets all his requirements effortlessly, leaving ready for anything.