Stepford Wives, Femininity and Grace with FLOW the Label
At only two years old, FLOW the Label has already established itself as a brand to be reckoned with––not just in their home country of Ukraine––but on an international scale. Started by sister duo Veronika and Victoria, the label was inspired by the pair's artistic vision and a mutual love for all things feminine. Inspired by everything from nature to the state of the world, FLOW the Label has consistently put out refined, envy-worthy collections that effortlessly merge fashion and culture on a global scale.
In their latest Resort 2017 collection, FLOW the Label took a turn for the sinister and explored a more moodier aesthetic than ever before. Citing the cult classic film
The Stepford Wives
(the original, not the Nicole Kidman remake) as their inspiration, the design duo presented a collection that was simultaneously cohesive and at odds with itself––much like the women presented in the film. Sugary, pale pink and baby blue chiffon dresses butt heads with strong, statement making black fabrics and copious use of denim. The end result was an intellectual collection that played with the balance of power, submission, strength and deliciacy that was delightfully relevant and refreshing to the modern woman.
Read more about FLOW the Label in the interview below!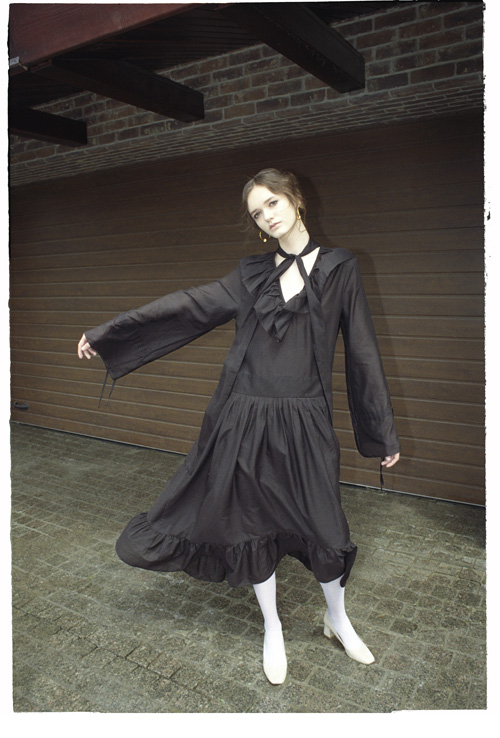 STEPHANIE: When and how was FLOW the Label started?
FLOW the Label
: FLOW's first collection appeared two years ago. It resulted from my two main hobbies – fashion and drawing. I seriously got into drawing after giving birth to my second child. I liked 'soft' techniques – pastel pencils, crayons, all those light colours. I noticed I was good at fashion sketches – I could see some good designer solutions in them. At some point I wanted to fulfil them into a real collection of clothes. So the first impulse for creating FLOW the Label was inspiration, not some pragmatic calculations – and this still influences the aesthetics of the brand. In order to help me create FLOW the Label, my sister Veronika –– who is a painter and web-designer –– flew in from Belgium. The first collection turned out to be very feminine and minimalist, and we still follow that elegant direction.
How did you choose FLOW as the name for your brand?
The name was born out of the label's primary idea. Veronika and I wanted to create feminine clothes, and true femininity somewhat resembles the gentle flow of a river – smooth, sedate and uninterrupted. But it may also become more stormy, which does not deprive the river of its beauty.
Where do you produce your garments and what textiles do you use?
We produce all of our clothing in the Ukraine. We have our own experimental department where we create samples and a small manufactory – that is why we can guarantee the highest quality in each garment. We work with the most comfortable and natural textiles, preferring mainly denim, cotton, silk, wool and corduroy. Each fabric gets selected at the Première Vision show.
What it is the concept of the pre-collection you presented at White?
We like working with 70's aesthetics, and this time we were inspired by the 1975 film 'The Stepford Wives'. It is known to a wide audience because of its re-make with Nicole Kidman playing the leading character. But the original version has a more subtle and intellectual plot and impeccable visual aesthetics. In the centre of the film lies the opposition of two images – of an independent and thinking self-made woman, and a 'perfect' housewife that is dependent and 'refined'. The film was quite timely in the USA in the 70's, during active fighting for the rights and new social roles for women. But this idea remains extremely contemporary. According to the plot, all women coming to Stepford were originally natural, self-sufficient, had their own interests and hobbies. Husbands did not like such independence, so they killed their wives and turned them into soulless clones. This contrast of the active and passive images of a woman became the basis of this collection.
What do you love––or not love––about your country?
In Europe, the fashion industry is flourishing. In Ukraine, what we can conventionally call 'a fashion business', is only settling down and in many aspects just imitates European patterns. The country has few disciplined professionals and almost no field-specific education or production capacities. Legislation regulating light industry is weak as well, and there are many customs complications. But on the other hand, we have so many gifted and intelligent people and so much desire to overcome the abovementioned problems, that their resolution is just a matter of time.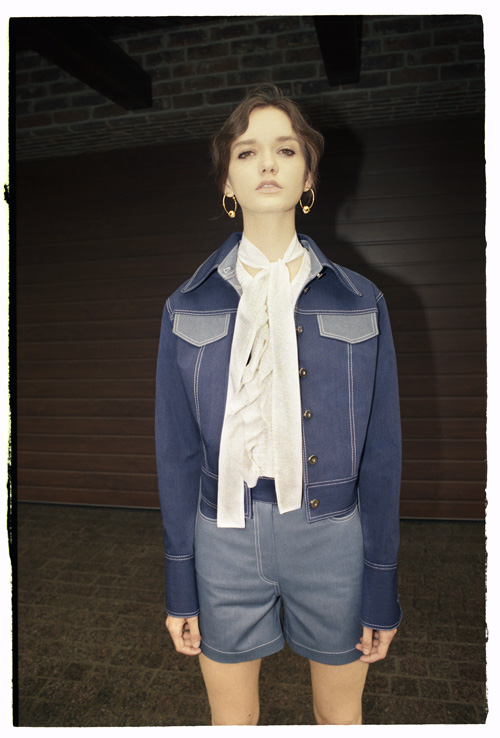 What has been your greatest success so far, and what is something that you still want to achieve?
I am very demanding of myself and never presumptuous, focusing on achievements – it is better to use this energy for moving forward. But, to be honest, I am truly proud that FLOW is only 2 years old, and Vogue.com has already published our work. Victory at White was a pleasant surprise, since we never filed any application forms. Such wins are very inspirational and signify the fact that sincere and honest work leads to impressive results.
What is your biggest dream?
I dream of peace.
What's next for FLOW the Label?
We are actively working on advancing our brand to the European and Asian markets, and are planning to broaden our sales geography. After participating at White, our collection is flying to Paris where we will present it in the More Dash showroom. We sincerely hope that everything will work out well.
To learn more about FLOW the Label, tune in to
Top 5 Must-Haves for Pre-Fall
. Premieres on September 6th, exclusively on
Fashion One
. Visit our program schedule for your local schedule.